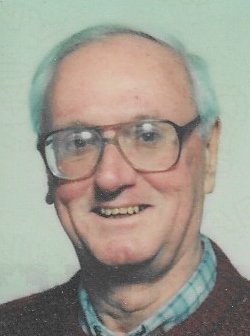 Obituary of Paul Kastner
KASTNER, William, John 'Paul' - On October 24, 2018, at the age of 91, Paul passed away peacefully in his sleep with his daughter at his side at Grey Bruce Health Services, Wiarton, after a two week battle with an infection.
Paul is predeceased by his wife, Maxine (nee Wamsley), his parents John and Anne Kastner (nee Gardiner) of Wiarton, and his baby brother Richard. He is survived by his brother Robert Kastner, formerly of Wiarton, now of Scarborough, and his neices Karen and Ellen and his nephew Doug, all of Toronto. He was a loving father to Pamela Crawford (Alan) of Oilphant and a proud grandpa of Connor Crawford, of Toronto.
Paul and Maxine finally settled in retirement to their Oliphant cottage in 1987 after many moves over the years with Paul's work, including to Kitchener, Toronto, Mississauga, Pittsburgh, Los Angeles (USA) and London (England). Paul was very proud of Wiarton, and had a stong sense of belonging to the community, so he got involved with a number of community projects. He was a member of the Wiarton Adult Literacy Program, helped with the Shore to Shore Race, was a key member of the Wiarton Affordable Housing Project for which he brought the famous singer Petula Clark, to Wiarton as a fundraiser. He was behind the renaming of the Wiarton Airport Terminal to the Eileen Vollick Terminal and proposed a housing community for pilots on the airport grounds. He even ran for Mayor of Wiarton at the age of 80! Most recently he founded the Annual William Wilfred Campbell Poetry Festival, in honour of the Wiarton-Born poet, held every June since 2014. A celebration of Paul's life will be held at a later date. In lieu of flowers, a donation can be made either to the William Wilfred Campbell Appreciation Society, to the Canadian Diabetes Association or to the Parkinson's Foundation. Funeral arrangements entrusted to the GEORGE FUNERAL HOME, Wiarton. Messages of condolence are welcome at www.georgefuneralhome.com