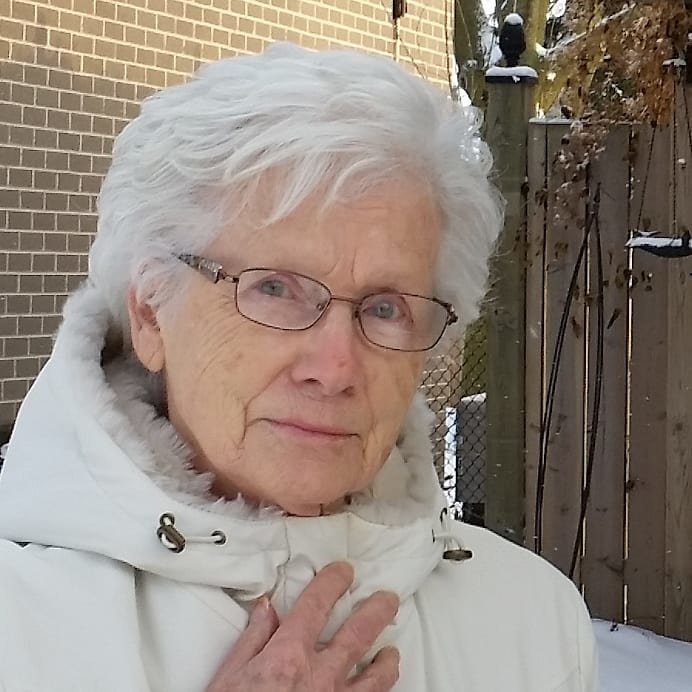 Obituary of Theresa Eleanor Nicholson
It is with great sadness that the family of Theresa Eleanor Nicholson (Ingraham) announces her passing, on Monday April 13th, 2020, at the age of 90 years. She always insisted she would live to the age of 104, but after a battle with Dementia, she is now reunited with her late husband George, her parents, Milford and Faye and her siblings, William, Augustina, Selena (Sis), Rena (Renee), James, Clinton and Theresa (infancy).
Theresa was born on December 10, 1929 in Glace Bay, Nova Scotia and was the youngest of eight children. As a young woman she moved from Glace Bay in the 1950s to Ontario, where she married the love of her life, George Edmond Nicholson on July 13, 1957. They had many ventures together, some of which included, owning a pet store and several property rentals. Ontario is where they raised their children, Keith, Darcy, Darryl and Karen and loved spending the summer months cottaging on Prospect Lake and Lake Simcoe, as well as returning to Cape Breton to visit family.
Theresa was a spirited woman who lived for hosting gatherings for family and friends. This quality time was always filled with eating, laughing and of course...dancing. In the later years, Theresa (Nanny) loved to lead her grandchildren around her home, telling stories and sharing memories about her photographs and belongings.
Theresa will be lovingly remembered by her children, Keith (Tina), Darcy (Tusha), Darryl (Moira) and Karen (Randy) Leblanc, her grandchildren Michael, Danielle, Deon, Heather, Kayla, Jovan, Shawn, Jason, Jessica, Amber, Aryn and Dale, nine great grandchildren and many others who cherished her.
Funeral arrangements will be made and communicated at a later date when we can gather together to honour and celebrate her life. Arrangements entrusted to the GEORGE FUNERAL HOME, Wiarton. In lieu of flowers, donations can be made in her name to Woods Park Care Centre, Barrie, Ontario or the Alzheimer Society of Nova Scotia. Messages of condolence may be sent to the family through www.georgefuneralhome.com
"God saw you getting tired and a cure was not to be. So He put his arms around you and whispered "Come to me". A golden heart stopped beating hard working hands at rest. God broke our hearts to prove to us He only takes the best". - Author unknown