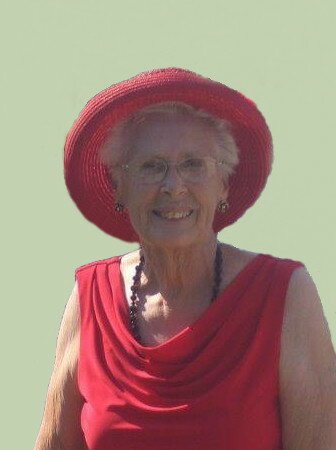 Obituary of Violet Linyard
LINYARD, Violet Eileen peacefully at Golden Dawn Nursing Home, Lion's Head early Thursday morning December 8, 2022. Violet Linyard of Lion's Head and formerly of Miller Lake and Hamilton in her 88th year. Beloved wife of the late Jim Linyard. Cherished mother of Debbie Johnson (Mark) of Stokes Bay, Doug (Pam) of Kitchener and Helen Milligan (Pat) of Stokes Bay. Much loved grandmother of Shane (Kristen), Shannon (Aydolu), Ashley (David), Shawna (Jesse), Carl, Andrew and Steve (Jen) and great grandmother to Adian, Leyla, Ender, Liam, Alexis, Duncan, Dakota, Damean and Jaxon. Dear sister of Bernice of Nova Scotia. Predeceased by parents Lillian (nee Fox) and Thomas Lancaster, foster parents John and Agnes Ledger, step-mother Alma Lancaster, brothers Donald, Russell, Tommy and Rick and sisters Florence and Mary.
The funeral service will be conducted from the Bethel Missionary Church, 18 Ferndale Road, Lion's Head on January 7th, 2023 at 2:00 p.m. with visitation one hour prior. Arrangements entrusted to the GEORGE FUNERAL HOME, LION'S HEAD CHAPEL, Lion's Head. Expressions of remembrance to the Alzheimer Society would be appreciated. Messages of condolence may be sent to the family through www.georgefuneralhome.com
The following are excerpts from the funeral service on January 7th, 2023
Celebration of the Life of Violet Eileen Linyard
1. Welcome and History of Violet Linyard - Mark Johnson
2. Prayer of Consolation - Pastor Gerald
3. Hymn - How Great Thou Art - Pastor Gerald
4. Remembrance - Helen Milligan
5. Poem - Debbie Penley
6. Prayer of Thanksgiving - Pastor Gerald
7. Song Scars in heaven - Casting Crowns
8. Sermonette - Pastor Gerald
9. Footprints in the Sand Reading - Shane Oatman
10. Congregational Sharing
11. Hymn Amazing Grace - Pastor Gerald
12 Prayer of Committal and blessing - Pastor Gerald
Violet Eileen Linyard
On behalf of her family, I'd like to welcome you to a celebration of the life of Violet Linyard.
Violet (Mom) was born Violet Eileen Lancaster on February 13, 1935 in Hamilton to Thomas & Lillian Lancaster. Her siblings were Florence, Mary and Tommy. Lillian passed away when Mom was a little girl, and Thomas remarried to Alma, who brought a son Donald to the marriage. Thomas and Alma had 2 children, Bernice and Rick.
At around 8 years old, Mom went to live with foster parents, Agnes and John Ledger. A foster brother, Russell, joined the family later.
Mom married Jim Linyard on Apr. 2, 1954. They lived with Jim's parents in Hamilton until the early 1990's when they sold the house. They had purchased a cottage in Miller Lake in the mid 1980's, which became their home when they sold the one in Hamilton.
Three children were born to Violet and Jim: Deborah Lorraine (1955), Douglas James (1959) and Helen Eileen (1964).
Violet, Jim and the family cottaged and camped in Ontario and travelled coast to coast in Canada, seeing the sights and visiting relatives. Violet and Jim also spent some time vacationing in Florida where they made many good friends. They have been on a couple of cruises and travelled to Hawaii with Violet's sister Bernice and husband Wally.
The family grew with marriages and grandchildren.
Debbie had 3 children (Shane, Shannon and Ashley).
Doug had 2 children (Shawna and Carl)
Helen had 2 children (Andrew and Stephen)
While in Miller Lake, mom and dad took part-time jobs at Summerhouse. They joined Bethel Missionary Church, Lads and Lassies, Stokes Bay Seniors, and much more. And of course, as usual, they made many friends.
And the family grew some more with great grandchildren:
Adian, Leyla and Ender (Mom - Shannon)
Liam and Alexis (Mom - Ashley)
Duncan (Mom - Shawna)
Dakota and Damean (Father - Andrew)
Jaxon (Father - Stephen)
In 2009, Violet's husband Jim passed away. Violet continued living in Miller Lake until 2016, when she sold her home and moved to an apartment in Lion's Head. But in between Miller Lake and Lion's Head, she stayed with her friend Sherri for about a year.
In May 2022, mom moved to the Golden Dawn where she passed away 7 months later. The family would like to thank the staff at Golden Dawn for their excellent care of our mom, grandma and great-grandma during her stay. She will be deeply missed by all of us.
Mother, My Best Friend
Growing up, we were not that close as she worked full time, we lived with my Nana & Bapa Linyard and I was Bapa's little chick-a-dee, so I spent a lot of time with them. But once I was a teenager and started working at Bindery Services, we became a lot closer.
I have many memories of those days, driving together, working side by side on the stringers, working afternoons and stopping at the donut shop on our way home after our shift even though it was the middle of the night. Even when I left Bindery Services, and went to Quality Bind, we still drove together. At the end of the day, I would meet her at Nana & Bapa Ledger's.
My children loved having her look after them and especially loved spending the summers with Dad & her up here on the Bruce. One of my kids refused to come home and now has a house up here. All of the grandchildren and great grandchildren loved spending time at Miller Lake. One even got married on the front yard, right by the water. Everyone in the family remembers drives on Forty Hills Road.
Mom had such a love for other people and it showed in all that she did for her family and her friends. She had a hard life growing up but she turned out to be one amazing women. She chose to not let her past define her. If you watched the slideshow – it shows that she enjoyed life.
She became my travel buddy or should I say, I became her travel buddy, I enjoyed going to Pennsylvania with her and looking for bargains, she got most of her Christmas shopping done those trips. Debbie joined us for our trip to Utah and New York and we made some great memories. Mom and I took a trip to Kamloops, BC to visit family, some that I had never met, it was a blast and so glad that we got to go. Our last trip together to Puerto Plata was an adventure, and we had some good laughs, especially when she won BINGO, prize was a bottle of Rum, don't worry, she didn't' drink it, she gave it away. Times that I will never forget.
God was good to her with putting the Ledgers in her path at a young age, and then meeting Dad. Even after Dad had to leave us and go to Heaven, along came Chuck and he put a smile on her face as well.
She was the prayer warrior for our family, I remember a grandchild refusing to eat once until grace was said. When Mom said grace before a meal, she just didn't thank God for the food we were about to eat but she remembered her family, if we were traveling or sick she prayed for us. It was so good to know she was praying for us all. She truly taught us what faith in God is. She was faithful in reading her Bible and Our Daily Bread every day, and growing up I remember she always knelt at the side of her bed to say her prayers. Who will be the Family's Prayer warrior now?
She was adventurous – I remember her learning to roller-skate with the ladies from Bindery Services when I was in high school, and I know one of my boys who remembers taking her on the rollercoaster, front row. She was always willing to try anything.
She enjoyed nature as well, when camping, she liked a babbly brook, at the cottage she enjoyed watching the birds at the bird feeder but she didn't like the geese or the ducks, and she loved the sunshine rather she was swimming at a beach or at a pool.
She also loved to shop – one of my best memories of driving to Florida is that when we passed a mall, Mom would say "a mall, a mall" wanting Dad to stop so that she could go shopping, Dad of course, would say "opps, sorry I missed the exit"
Lately, Mom's memory had failed and she was living in the past, but now she is in heaven with all the people who have gone before her, Dad, Chuck, Phyllis & Jim, Her brothers, Tommy, Rick and Russell. Her sisters, Florence and Mary and her parents and her in-laws and many other friends and family.
We have so many memories of good times spent with her and they have helped to shape us into the people that we are today. Mom will live on forever in us. MOM, Thank you for being the best Mother, Grandmother and Great Grandmother that this family could ever have.
Mom was a strong believer in giving to the poor since she grew up not having a lot and remembers at Christmas getting a Basket from Salvation Army, she loved to make up OCC shoeboxes, so I ask of you all that every Christmas – please give to some organization in memory of Mom.
Mom we love you and will miss you.
Mom's favorite Bible verse
5 Trust in the Lord with all your heart, and lean not on your own understanding; 6 In all your ways acknowledge Him, And He shall direct your paths. Proverbs 3:5, 6
Poem
I miss her, my Mom, my best friend, my travel buddy.
I can see her, I can touch her but she is the shell of the woman I once knew
She's living in a world that is hard for me to grasp,
Asking me questions like where's Dad and I don't know what to say
Asking the same question over and over forgetting the answer I just told her
I miss her, my Mom, my best friend, my travel buddy.
Where oh where is the woman who loved to talk and had many stories to tell of her younger years
WOW oh WOW is what we hear now
Knitted blankets and hats are made no more, ones we have from days gone by, will now be cherished, oh so much more
Games of cards are played no more, only memories for us to think upon
Trips taken are wonderful memories that we have but we can't share them with her as she remembers none.
I miss her, my Mom, my best friend, my travel buddy.
She goes no way, she sees no one, she has no money and nowhere to live as far as she knows.
But we are here, we call, we visit, we take her out, if only she could remember.
People call and Mom chats, hangs up the phone and says who was that
She has a room in a lovely home, they take good care of her. Many things to do and even trips out once in awhile. No cooking, no cleaning, no laundry to do, sometimes I wish I lived there too.
Mom oh Mom I wish for the days where we could chat and travel.
I miss her, My Mom.