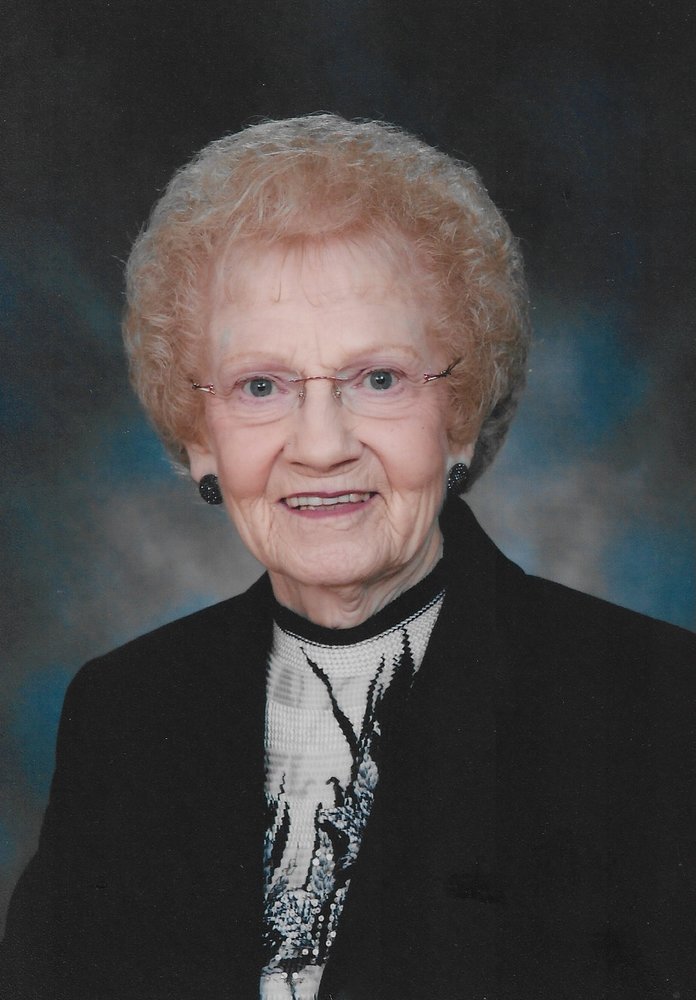 Obituary of Ila Violet Nixon
NIXON, Ila Violet peacefully at Gateway Haven Nursing Home, Wiarton Friday afternoon December 4, 2020. Ila Nixon (nee Weir) of Wiarton at the age of 91. Beloved wife of the late Mansil Nixon (2000). Cherished mother of Joanne and Brian Thompson of Wiarton, Kathy and Mark Speechley of London and Trudy Fahie of Toronto. Much loved grandmother of Ryan (Jen), James (Jill), Brad (Katie), Brent (Emily), Charlie (Winnie), Rachel, Mackenzie (Calvin) and Harrison. Special great grandmother of Hayley (Dan), Shelby, Rhys, Maddox, Austin, Reid, Jordyn, Brynnley and Luca. Predeceased by sisters Dorothy Ribbel and Caroline Waugh Hardman, brother Marvin Weir and son-in-law Ken Fahie. Missed by many nieces and nephews.
A private funeral service was conducted by the GEORGE FUNERAL HOME, Wiarton.
Friends are welcome to view the service by clicking the link below
https://www.youtube.com/watch?v=mb2t-i6ooyQ
Spring interment Bayview Cemetery, Wiarton. Expressions of remembrance to Friends of Gateway or St. Paul's Presbyterian Church would be appreciated. Messages of condolence may be sent to the family through www.georgefuneralhome.com
Ila was born in Adamsville in the former Albemarle Township, Bruce County, now named the Municipality of South Bruce Peninsula. As a child Ila lived in Mar on the family farm located at the end of what is now named Weir's Road and walked to the one-room school on Highway 6 where she graduated from Grade 8.
Ila's first job was assisting with cooking at a neighbouring farm for the hired hands when she was 14. At age 17 she held her first retail clerk job, working at Cheshire's department store. She filled several other roles early on in her life including clerk at Bernice Tyson's children's wear shop and keeping ship over the winter in Goderich with Mansil on a Great Lakes freighter. She then progressed to co-ownership of the Victoria Restaurant on the main street of Wiarton. Continuing their success in business ownership, Mansil and Ila entered into the grocery store business as co-owners and operators of a small store on the west side of Berford Street before building a larger new store across the road, known as Nixon's IGA and later as Nixon's Foodland. They operated this successful family business for many years until they retired in 1981.
Ila was community minded. She was a long-time member of the Order of the Eastern Star for well over fifty years, holding positions at both local and Provincial levels. The Masonic Lodge was built on a lot donated by Ila and Mansil. Her dedication to the Order was recognized when she was appointed Grand Representative of Arkansas in Ontario and a few years later appointed to a one-year term as a Grand Officer in the Grand Chapter of Ontario, OES. Throughout her life she attended the Presbyterian Church, first in Mar as a child and then at St Paul's in Wiarton.
Ila was an amateur sports "fan extraordinaire". Throughout her life she followed the Wiarton hockey and fastball teams and in later years she was a regular in the stands watching her grandchildren in many sports. Prior to retirement, Ila got lots of exercise working hard day and night. In later years, even beyond age 80, she could be found working out three times a week at the StoneTree Fitness Centre.
Ila was a rare gem who enhanced the lives of everyone she encountered with her smile and positive energy. Truly a life living every moment to the fullest with compassion and dedication, positivity and fun, a passion for giving back and celebration of all things family!