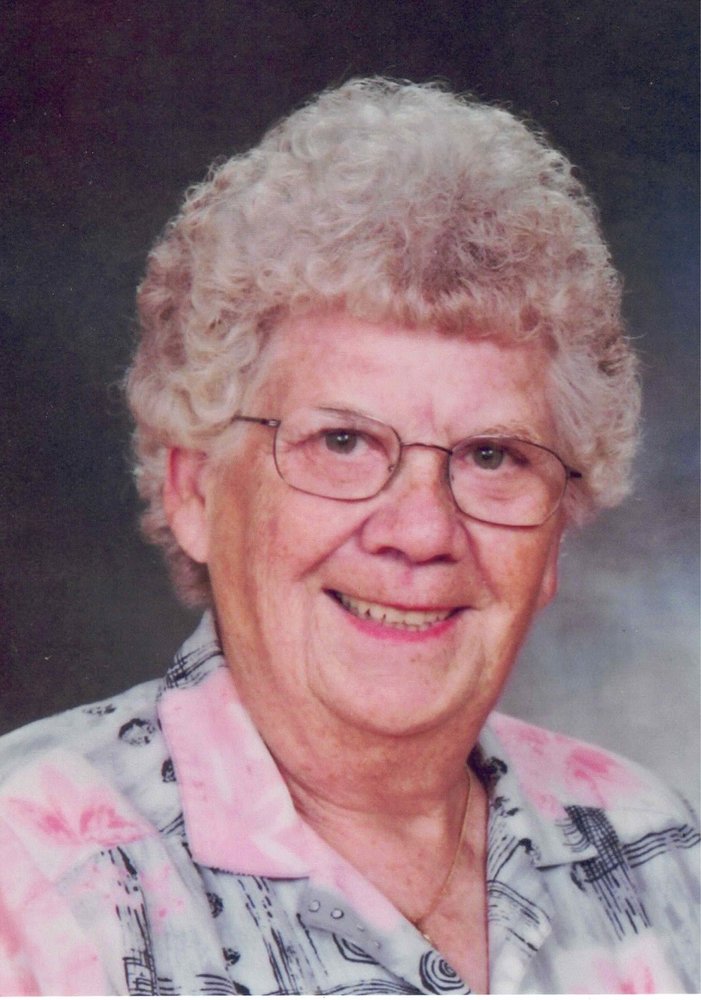 Obituary of Janet Ann Henderson
Janet was born 7 March 1934, a few minutes before her twin sister Jean, at Wiarton Ontario.
The "Twins" as they were known, became infamous in the town as they grew up. They were often seen leading their group of friends throughout town on various mischievous errands such as picking up dead birds and animals and giving them a funeral and burial (after all their father and grand father were funeral directors). On another occasion they went missing for a few hours only to be found skinny dipping in the chilly November waters of Colpoys Bay. (That one made the newspapers). Once they decided to paint the family dog, a terrier. They chose the colour red and didn't have a brush so used a butcher's knife to spread the paint. You can imagine the horror the neighbours felt when they saw the girls chasing the dog with red dripping from the dog and knife.
During their school years they were involved in many school and church activities. Upon graduation, Janet began her banking career by joining the Royal Bank of Canada in Toronto. After a short time, she had the opportunity to transfer to the Royal Bank in Goose Bay, Labrador. She jumped at the chance and spent three years there. During this time the Bank was on the Canadian side of the large Airforce base and her quarters were in a barracks on the American side. She made many friends here and sang in the choir at the military chapel. Needless to say, living on a large USAF/RCAF airbase was exciting and Janet was prepared to stay in the North but, on the advice of a friend, she returned to "civilization".
When she got back to Toronto, she continued her career with the Royal Bank. On the passing of her father, Janet moved back to Wiarton but could not transfer with the Royal Bank so joined the CIBC in Owen Sound. She lived in Wiarton and helped mom with the expenses as Grant and Brett were still at home.
During this time, she was asked to take the position as District Commissioner of the Girl Guides of Canada. She took on this roll with great enthusiasm and worked many happy hours with the area groups, arranging annual camps, activities and award ceremonies.
After the death of her mother and Brett's graduation from high school, Janet once again left Wiarton for Toronto where she continued her career with the CIBC until her retirement. She and Jean then moved back to the family cottage at Oliphant.
Janet and Jean loved to travel visiting Scotland and England and driving tours from the East coast, to Florida in the South and West to BC. On one occasion they drove an old pickup truck to visit family in Whitehorse, Yukon Territories. Most of us thought that old truck would never get out of Ontario.
Visiting family and having family come to visit were always highlights of the year for Janet and Jean. They were always "up" for whatever activities the nieces and nephew could think of.
Once retired, Janet would not sit still. She had power tools for everything. She decided to build a tool shed at the cottage. She found plans for a small barn and reduced the measurements to the size she wanted. However, she didn't reduce the number of wall joists nor roof rafters so the shed had joists and rafters about 6" apart. When she was finished, a friend and local handyman looked on in wonder. "There is no amount of snow nor wind that will ever move that structure" said he.
Gardening also became a favourite pastime. A short time before Janet and Jean retired, the local township dumped huge piles of rocks along the lake side of the road at the front of the cottage. This was intended to be a berm against high water events that occurred about every seven years or so. It is not known whether or not they intended to landscape these berms at some point but, in any event, nothing was done. Janet decided that she would do something about this eyesore and so began the Great Rock Garden. Loads of topsoil were brought in and then carted to the rock pile and carefully packed in the cracks and gaps. Then came the flowers and plants. As the summer went on, watering became a challenge. Dragging a hose across a busy road was not an option, so a metal horse trough and rain barrels were purchased and rainwater saved. Then trip after trip with a watering can was a daily chore.
It was not long before the beauty of the rock garden was recognized and neighbours all along that stretch of road followed the example of the "Twins".
On the 100th anniversary of D-Day, Janet decided to honour Canada's military members, past and present. She made up several white crosses out of Styrofoam and affixed a poppy to each one. These were then planted in the rock garden. The garden now became a tourist attraction. Passing cars would slow right down or stop to admire the garden. A story of the garden appeared in the local paper and many photos ended up on the internet. Often people stopped by to thank Janet for the display.
The twins continued to live at Oliphant until mobility became a problem for Jean and the winter snows made it difficult to get about. They then rented a house in Wiarton but continued to spend much of the summer at the cottage.
In 2018, Jean passed away after a brief illness. Janet continued to live at the house in Wiarton until failing health caused her to move into a care home. Here she received great care until a suspected cancer appeared and she went into Wiarton hospital where she passed away peacefully 14 June 2021.
Her final years were made easier by a wonderful friend, Nancy Lewall, who did so much of the legwork to arrange for Janet's care when family was unable to be there.
Janet will be missed but lovingly remembered.
Janet was predeceased by her parents, Robert Brett and Eileen (Langford) Henderson, her twin sister Jean, and her sister Evelyn (Bud) Barritt.
She is survived by her brothers, Robert (Eileen) of Regina, Grant (Joan) of Edmonton and Brett of Regina; nieces and nephews, Marilyn (Greg) Vallee, Jeffrey (Connie), Kimberlee (Blair) McDougall, Cary (Donna), Darrell, Charlene, and Sheena.
Also survived by numerous great nieces and nephews and two great, great nephews.
Private family funeral arrangements entrusted to the GEORGE FUNERAL HOME, Wiarton. A celebration of Janet's life will be held at a future date to be determined. Interment Bayview Cemetery, Wiarton. Expressions of remembrance to St. Andrews Presbyterian Church, Southampton would be appreciated. Messages of condolence may be sent to the family through www.georgefuneralhome.com