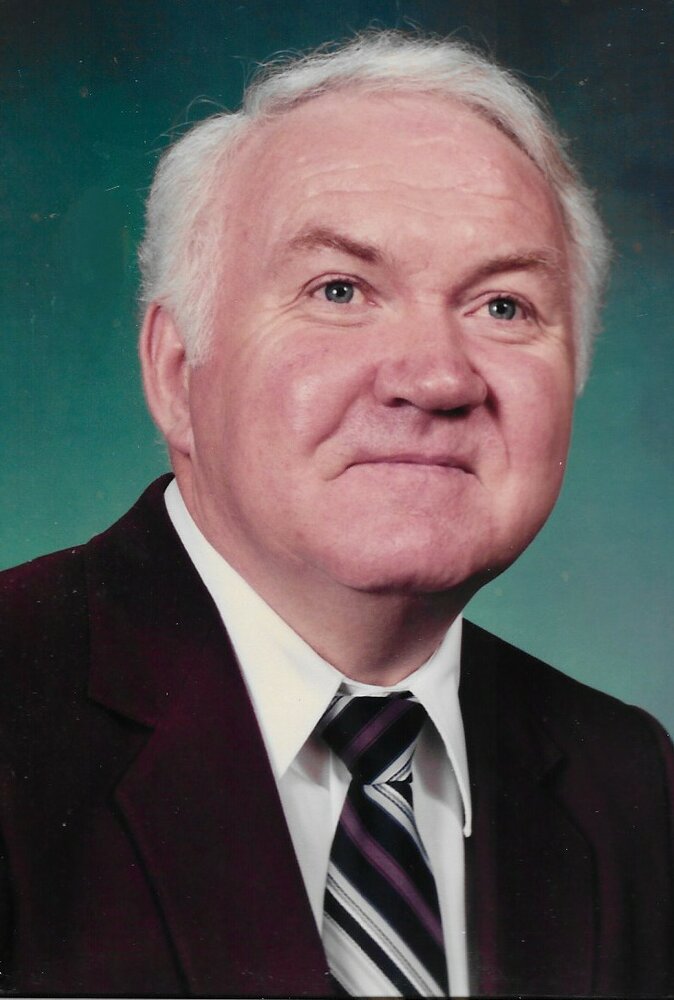 Obituary of Al "Red" Leeder
Alma James Vernon "Red" Leeder, formerly of Wiarton, Ont. passed away on March 6, 2022 at Grey Bruce Health Services in Owen Sound. He was in his 92nd year. Alma is survived by Shirley, his wife and companion of 69 years, sons Steve (Donna), Bert (Susan) and predeceased by daughter Maureen. Much loved "Poppa" to Jessica Leeder (Scott Belton), Melissa Shumway (Jeff), Christie Leeder (Mike MacLeod), and Laura Leeder (deceased), and "Old Poppa" to great-grandchildren Isla and Finn Belton, and Harper, Emery and Ryan Shumway. He will be fondly remembered by many nieces, nephews and extended family.
Born James Vernon Smythe in Mulmur Township to Ernie and Mildred Smythe, Alma was given his forename by church friends of his parents, Iden and Abby Leeder, who adopted him following the death of his mother. He was raised as a Leeder in Saugeen Township but maintained close relationships with his seven older Smythe siblings (deceased). He spent his childhood in the Port Elgin area and, at 18, began teaching in Amabel Township. He went on to work as a teacher and principal in Shallow Lake, Wiarton, Ajax and Amabel-Hepworth over a distinguished, 39-year career.
Known affectionately as "Red" and "Al", Alma was devoted to community service. He was an active and enthusiastic member of the Wiarton Rotary Club, and for several years operated the corn booth at the annual Rotary Village Fair. In 2021, he celebrated 70 years of service as a Rotarian. He was twice awarded the Rotary Club's Paul Harris Fellowship and recognized as Rotarian of the Year in 2017. He was committed to the club's mandate to spread help and hope and was particularly proud of the Easter Seals Concerts, which were hosted at the local arena in support of a children's camp. The involvement of a local choir of children and adults fed Alma's love of music. Later, he was instrumental in forming the Wiarton Community Choir. He played the piano by ear, and taught himself to play the trumpet when he started the band program at Wiarton Public School. Alma encouraged others to embrace music and even helped them obtain instruments. He was known to offer practice time at the family piano to students who did not have access to one at home.
Alma's commitment to service extended to activities in support of the Town of Wiarton. He led fundraising efforts as chair of the recreation committee to build the town's arena. Later, both he and Shirley served as town councillors. As members of Rotary and the Women's Institute, respectively, Alma and Shirley combined efforts to help save Wiarton's old train station and move it to its current location at Bluewater Park.
Having been raised in the Reorganized Church of Jesus Christ of Latter Day Saints, now the Community of Christ, Alma had a lifelong commitment to serving the church, including as Evangelist-Patriarch. Shirley supported him fully in that pursuit. In retirement the pair relocated to Nauvoo, Illinois, where, for two years, they conducted tours at the church's historic headquarters. They travelled to China in 1995 for the International Women's Conference. They also had many fond visits to Kansas to visit son Steve and family.
Alma was the most at home at the house he and Shirley lived in for more than 50 years on Wiarton's main street. They hosted annual reunions for the Ashcroft family in their backyard, as well as several memorable anniversary and other celebrations. Al happily tended to a large vegetable garden that produced food for many a great meal. While he was immensely proud of the potatoes, carrots and beans the garden produced, Alma was known to have a sweet tooth. He was a regular taste-tester in Shirley's kitchen and was particularly quick to offer his services to evaluate fresh-baked cookies, pie and homemade bread.
When he wasn't in the garden, Alma was fond of spending time at his bush lot on the Niagara Escarpment near Skinner's Bluff. Thinning the trees provided exercise and resulted in several cords of wood from the lot, which was recently donated to the Bruce Trail. It also produced several ash trees that were made into pews for the Church.
Although Alma had a reputation amongst students for being firm and fair, he was better known in later years for his generous warmth, wide smiles and expansive heart. He was a deep thinker with a curious mind who cared equally about keeping up with world events and the health and happiness of everyday acquaintances. Together, Alma and Shirley maintained a healthy social network, which expanded more so with a recent move to Central Place in Owen Sound.
Family and friends may call at the GEORGE FUNERAL HOME, Wiarton, on Friday, March 11th from 2:00 to 4:00 p.m. and 7:00 to 9:00 pm. The funeral service will be conducted at the funeral home on Saturday, March 12th at 1:00 p.m. with visitation 1 hour prior to the service. No reservations are required but face coverings must be worn. Larry Porter officiating. Spring Interment, Oxenden Cemetery. Expressions of remembrance to Bruce Peninsula Hospice or the Bruce Peninsula Hospitals Foundation. Messages of condolence may be sent to the family through www.georgefuneralhome.com.